May this year, no matter when it started for you, bring you much health, wealth and happiness. 
Happy New Year TEA!

I was hoping to wish everyone a Happy New Year - with all of the voting and election info that has been having to send out over the last month - I will settle for Happy Lunar New Year!

 

May this year, no matter when it started for you, bring you much health, wealth and happiness. 

Here's the latest from TEA:  
Next Contract Vote - Online voting begins Monday, January 23rd and concludes at 4:00 pm on Wednesday, January 25. Last time many tried to log in after the ending time and it is an official end of 4:00 pm.  Before break you received information regarding our most recent voting opportunity. We will again be voting electronically. If you had any issues (did not receive the ballot, or it was delivered late) then please reach out to our TEA office now and double check your personal email. 

We will be voting on the following issues. You may either click the links here or refer back to the earlier announcement sent out in December.  SUMMARY OF ALL AREAS GOING TO VOTE

You should have received the MOU for the 3rd through 5th grade planning days. MOU 3rd-5th

Last Vote  - We had 54.2% of our members who voted in our last election which covered both Health and Welfare, as well as Compensation. Both passed with Compensation agreement passing by 98.7% and Health and Welfare passing by 96.8%. 

Compensation - 

Since we have approved the two year agreement on compensation for 11% this year and 2% next year, all on schedule, the following pertains to when that will appear in your paychecks. 

January paycheck (end of Jan.) the 11% increase to your pay will begin. The payscale will shift and reflect the increase to all levels at that time. 

The retro-active compensation for the beginning of the month (your 11% for those months) will be in your February paycheck. 

The 2% for next year will begin with your first paycheck in August of 2023. All pay scales will change and reflect that at the start of the 2023/2024 school year. 

With the increase last year of 3%, this increase and the projected increase next year, that is a 16% increase over three years. On schedule and all helping to increase your CalSTRS. 

Currently this also puts Tustin at the highest increase in the county. Not all locals have completed their bargaining so we do not know where this puts us for the county average on pay scales. We will need to have all districts complete and that will give us a better ability to see where TUSD is overall. However, this is a great sign of our bargaining teams working together and working towards making TUSD competitive to retain, and recruit educators. 

Induction - TUSD and TEA have discussed the issues with induction. Some have already received their reimbursement for last year in their December paycheck. Those that were already in the O.C.D.E database as part of the TUSD system were already known. TUSD sent out a communication requesting additional information last week to make sure that everyone who was/ is part of induction is compensated. If you were NOT part of the O.C.D.E program please follow the instructions sent from the district. 

Because the induction costs are pulled from your paycheck (if you are part of the OCDE program), they have been taxed, or are from pre tax monies. That created an accounting issue that no one thought about while negotiating. The payment had to be put in the system and needed to be taxed. The district and TEA discussed and both wanted to make sure that the burden of the tax did not fall on the inductee. The district added $100 to the payback of the $1800 to cover the tax that would be incurred for the taxing of the payout. 

If you are currently having monies taken out for this year's program, you will continue to have that taken out, but at the end of the year the same protocol that has been communicated by TUSD on payment for last year will be used for this year and you will be paid back after completion.  

And finally - YES, you can still use these units to advance on the pay scale. You are still picking up the cost of the units and you are still paying for the program. Nothing changes for you to acquire the units and use these for salary advancement. 
REMINDER - if you were a TEA member by January  2023. TEA will also be giving you $300 (no taxes removed) as a thank you for waiting for us to work this out. We have been waiting for the list from the district. Since the payment is for those currently in the induction program. We are just waiting for the list from TUSD, which will be culled once they communicate and get your responses and confirmations. 
TEA Executive Board Nominations - The Following Elected Positions for the TEA Executive Board are open to nomination until January 30, 2023:

  2-year terms: July 1, 2023 through June 30, 2025

Elementary School Director (2)

Middle School Director

High School Director

3-year term: June 26, 2023 through June 25, 2026

National Educational Association Representative Assembly (NEA-RA)- July 2-6, 2023 (Orlando) - The NEA Representative Assembly is the largest democratic deliberative assembly in the world. California sends more than 1,000 delegates to the NEA RA each summer. During this annual meeting, CTA members help set policy and chart the direction of NEA business through participation on various committees, constituencies, caucuses, and leadership groups.Apply for local in candidacy forms above and for state delegate here. 
Tax Information - It's time to prepare for taxes. Please see the information below to help for the deduction question on Union Dues. This information should also be posted at your site. 
Bargaining - TEA and TUSD continue to work on various areas, some that are contractual and others that are brought by one or both parties, so that we can better clarify and work together. Currently these are what is being discussed: 

Professional Development Units and the approval process.

We have heard you and also are very interested to work with the district to find out what is being approved vs. denied for professional growth and continued education. We are currently trying to cultivate our own information to see what information we can cull and make sense of. Ideally we would like to work with them to have more solid information so that we all can take classes and coursework and have them count either towards salary advancement or professional development credit. 

Special Education - this is continual and ongoing and pertains to not only the caseload size for SAI, but also the caseloads for all. We also continue to meet and try to find balance in workload issues. Special Ed. is a continual and ongoing not only with bargaining, but with many discussions with the district in all areas. 

TK Update/ Kinder update - 

TEA elementary directors met with Lauralee Cabibi and Maggie Villegas the last week before break. We know that this does not fix all issues, but we are hoping that it's a start and helps especially as we also know that the TK level will continue to grow as a California State priority. 

DRDP 3 times a year, not the six originally stated in our meeting and reduced amount of evidence/ pictures having to be posted. 

PDI for kinder - you all should have received an email from Lauralee regarding the testing. It is every three years and this year is not one of the years assigned. In the past the district has been allowed to choose the dates given. TEA is also still working on finding out if other districts do this and if it is mandated. 
 

---

Know Your Rights - This is a reminder, as I've had so many questions while meeting with members on site. We all forget when it gets to be too much - so I'm hoping this helps. If it's ever a question remember that TEA is here to work with you. Contact your Site Rep(s), our Directors and our office as well. 

IN THE CLASSROOM

To make the final decision as to student grades (EC 49066)

To seize any injurious object from any student while on school premises or under the authority of school personnel. (EC49331)

To be informed of each student who engaged in, or is reasonable suspected of, acts that are grounds for suspension or expulsion, within the past three years (EC49079) 

WITH ADMINISTRATORS

To ask what a meeting's purpose is before attending. 

To assert the right under Weingarten and EERA to representation in meetings that have the potential to lead to discipline. 

To stop a meeting that has become disciplinary in nature until representation arrives. 

To request unusual directives in writing before complying. 

To refuse to give explanations and/or submit a written statement, until after consulting with a union rep. 

CONCERNING PARENTS or GUARDIANS

To immediately stop and demand the attendance of a union representative or administrator if a parent or guardian meeting becomes unpleasant. 

Additional:

A parent or guardian who materially disrupts a class or school activity is guilty of a misdemeanor. (EC44811) 

Parents/ Guardians are liable for their minor children's willful misconduct that causes injury to persona and/ or property. (EC48904, 48905) 
Get a pocket version of the above by contacting our office or click on the following  or my going to the link HERE and learn more: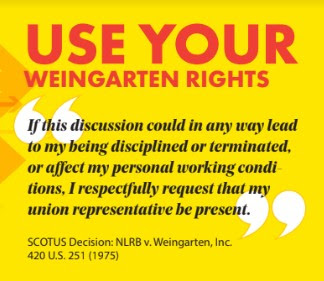 Weingarten Rights - No matter what - if you feel that anything may lead to disciplinary action make sure that you have representation. 
Member Benefits: 

CTA Access to Savings - This is the way to access financial savings that could equal what you pay for membership dues. At CTA Access to Savings, you'll find savings up to 50 percent on everyday things such as food, clothing, car care, travel, entertainment, home and garden, health and beauty, and more. Plus, get a jump on spring break or summer vacation planning with deep discounts on trips to your favorite destinations and resorts. Save money and get great dealshere.
CALM - Have you signed up for your free CALM subscription? The Calm mobile app is now available to all active CTA members (active and retired) at no cost? Please log intoctamemberbenefits.org/calm to register. 

The Standard - 

New To TUSD? Take advantage of this special enrollment opportunity - CTA members starting at a new school district have a special enrollment opportunity to apply for CTA-endorsed Disability and Life insurance without answering health questions within 270 days of starting work.

 This enrollment opportunity offers you (effective July 1, 2022):

CTA-endorsed Disability insurance to help protect your paycheck

Up to $400,000 of CTA-endorsed Life insurance to help protect your loved ones1

Life insurance coverage options for your spouse/domestic partner and dependent children

Transferred districts this year? You must reapply for coverage at your new school district as coverage doesn't automatically transfer to your new employer.

To learn more or apply, visit standard.com/cta/newhire 

You as district new hires or district transfers are invited to learn more at The Standard Town Hall on February 7th at 4 p.m. 

They will cover:

New Hire and District Transfer special enrollment opportunity

CTA-endorsed Disability and Life insurance plans

Extra benefits for CTA members

How to enroll

Q&A

Registration is required: stdrd.co/townhallfeb7

Scholarship and Grant Opportunities: Innovate your teaching instruction in 2023 with a grant from the NEA Foundation! Educators are strongly encouraged to apply for one of the three available grant opportunities, including Student Success grants, Envision Equity grants and Learning & Leadership grants that range from $1,500 to $5,000. Deadline to apply for the winter grant period: Feb. 1. The video here can help walk you through the application process and answer most questions.

The CTA Martin Luther King Jr. Memorial Scholarship Program encourages Black, Indigenous and People of Color (BIPOC) students to become educators, school nurses, school counselors or school therapists and to promote professional growth for BIPOC teachers and Education Support Professional members. Award amounts are up to $6,000. Check eligibility and find the application here. Deadline to apply: Feb. 10.

Trainings and Conferences:
Good Teaching South - March 3-5, 2023 (Garden Grove) - The CTA Good Teaching Conferences supports excellent teaching and learning practices for classroom teachers via peer-to-peer instruction. Offering a variety of diverse workshops focused on curriculum content areas for K-12 teachers, the conferences provide opportunities for professional development and offer time to network and share ideas with colleagues and experts in the field of education. Registration for this event is coming soon. TEA has allotted for up to 20 members to attend.

Mental Health Matters: Spring Webinars - CTA's Instruction & Professional Development department invites CTA members to a three-part webinar series, presented by our community partners, on self-care and healing:

Mon., Feb. 8: Mental Health Awareness. This Kaiser Permanente training will help you understand the impact of mental health and wellness in the workplace, recognize common mental health challenges, support and engage in practices that support emotional wellbeing, and help you speak more openly about mental health.

Thurs., March 9: Filling Your Cup, Part One. Will work on how tol define burnout and learn more about its causes: how to identify it, balance it, and combat it. We will also discuss awareness, and become more aware of stress response patterns by tuning into the '3Bs' (body, behavior, beliefs), and take away strategies for fostering empathy and awareness of others.

Thurs., April 13: Filling Your Cup, Part Two. The focus will be on finding balance through boundaries and holistic well-being: finding a happy medium between your have-to-dos and your can-dos and using a boundary-setting strategy to help achieve balance. They will build connections and a safeguard against burnout by learning to effectively communicate and connect to your needs.

Register for one or all webinars here.

Please Remember:

The Tustin Unified School District offers a confidential Employee Assistance Program (EAP) through Anthem at no charge to employees. This plan provides you and your family members with up to 3 face-to-face and telephonic consultations for a wide range of emotional health, family and work issues including marital/family/relationship, stress/emotional, Legal and Financial and grief. Your EAP also features online services to help you balance work and life and take care of a variety of chores and challenges. The website includes resources, child and elder care search tools, and a children's section. 

To access your benefits you can call the 24-hour CONFIDENTIAL EAP Line at (888) 209-7840 or you may visit the Anthem Resource Advisor website at http://www.ResourceAdvisorCA.anthem.com  Then, log in with the program name: ResourceAdvisor
I've recently gotten into podcasts thanks to recommendations from you - TEA members. I'm not one to listen to books on tape or much beyond basic radio or news. I'm a visual learner and have always preferred having written words in front of me. When it's someone talking I always used to just zone out (as can be confirmed with my grades from large lecture courses in college).  The first one I listened to was called SOLD A STORY  - all about reading instruction and what we have done correctly, and not so correctly, over the last decades in our nation with reading instruction.  But I found myself hanging out in my car after I parked to continue to listen.. I finished and was sad I didn't have more episodes. I've moved on to a political cast now and am happily accepting any and all recommendations you might have for further listening. It feels a bit vintage - like I'm listening to old radio story dramas and I can't believe how much I'm learning and enjoying.  

Thank you for your continued work on behalf of all TUSD students and families. This has been a trying year in many ways as it's also been our most normal year in awhile. TEA has heard the hard issues with discipline and student issues. Please continue to reach out to site reps, directors and myself. On those rough days - remember that even on your worst days as an educator, you are still doing work, and are teaching and inspiring children. You all are superstars! 

Have a wonderful start to your week! 
In Unity,
Lisa Hickman
President, Tustin Educators Association